MIG200 - nucleo di flusso / Mig / MMA / saldatrice 200A
LA NOSTRA FABBRICA, YONGKANG DANCY MACHINE CO., LTD è uno dei fornitori d'oro in Cina per saldatrici.
Disponiamo di prodotti di qualità e team di innovazione tecnologica, addetti alle vendite professionali, vi aiutiamo a ottenere buoni profitti e risparmiare tempo.
Si prega gentilmente di contattarci per eventuali domande facendo clic sulla foto in basso, Mobile e chattiamo: 0086 18258995516.Grazie.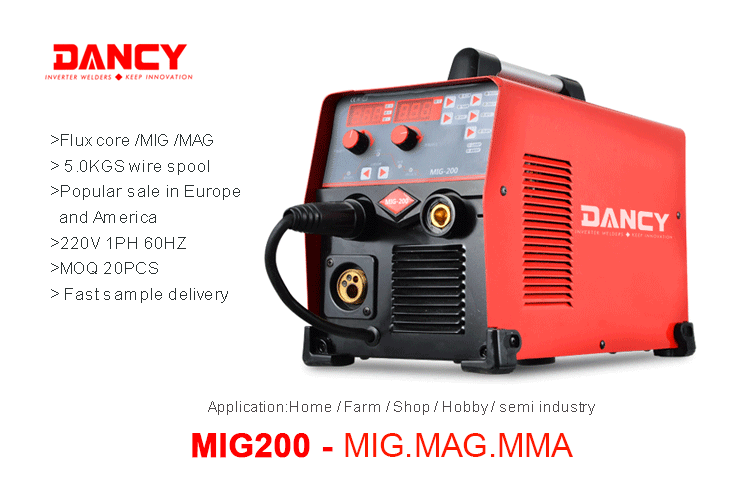 CHE COSA SONO I DETTAGLI DI BASE DEL NOSTRO MIG200?
WHO can use:

Home / Farm / Shop / ,Hobby / Semi industry use

Process

Flux core / MIG / MMA

where popular sales now

We sold it to Europe and America in big quantity

what is Wire speed

2.5m-13.0m / minute

which Wire dia applied

0.8mm -1.0mm

GAS OR GASLESS

Both

what is Roller groove with machine

It is "U" type groove roller with machine.

We suggest you buy "V" type groove roller if take aluminium wire

what is Wire spool size

5kgs wire spool,our customer usally take AWS A5.18 ER70S-6 mig wire

Application material

Carbon steel,aluminium,copper,stainless steel

Do you have video

Yes,we have operation video

Input power

230V +_ 15%, 1PH 60HZ

Machine net weight

11.5kgs,Easy to move

What accessories at free

1. quality mig torch with 3.5m cable

2.MMA electrode holder with 1.8m cable

3.Earth clamp with 1.8m cable,please see photo belowed.

What is mig socket

Binzel European type

How about sample

Sample to be delivered in 3 workdays

Production Lead time:

25 days for available color and package designs,Customized: 35~40 days

MOQ

20PCS with DANCY logo and Dancy cartons.

Brand

DANCY
CHE SPECIFICA di MIG200?
Nella nostra azienda, ci sono una vasta gamma di saldatori mig alla vostra selezione, full 155amps-175amps-200amps-315amps-350amps-500amps.
Qui abbiamo introdotto modelli MIG come la nostra serie MIG, MIG155, MIG175.MIG200 @ 220V 1PH 60HZ.È un saldatore multiuso professionale, anima Flux / MIG / MAG / saldatura senza gas / saldatrice ARC. Non è solo per uso domestico e hobbistico ma anche per applicazioni di semi-industria, come officine auto, officine e aziende agricole. Controllo preciso dei parametri di saldatura a 0,1 A e 0,1 V, aiuta i saldatori a eseguire qualsiasi tipo di prestazione che desideri. Ottiene vendite popolari in Europa e in America.
CAMPIONE DISPONIBILE ENTRO 3 GIORNI AL RICEVIMENTO DELLA CONFERMA DELL'ORDINE.
SPECIFICATIONS FOR MIG-200

INPUT

VOLTAGE

V

165V~255V workable

POWER CAPACITY

KW

CURRENT

AMPS

MMA 29.5A,MIG 26.8A

VOLTAGE

V

MMA 28.0V,MIG 25.0V

CURRENT

A

POWER FACTOR

DUTY CYCLE

INSULATION CLASS

PROTECTION CLASS

DIAMETER

Electrode: 1.6mm-5.0mm, mig wire diameter 0.8-1.0mm
Vista rapida di MIG200
Congratulazioni ci trovi uno dei fornitori magnati in Cina per i saldatori invertier. contattaci per vendite @ weldertool.com
Esempio di saldatore Mig200 verrà inviato entro 5 giorni dalla ricezione della conferma dell'ordine.
Description:

Digital front panel control,

Binzel Europe socket

Description:

Updated technology circuit board

Description:

5.0KGS wire rolls, 0.8-1.0mm wire U type roller

Description:

Big handle,Compact size,light weight,easy to carry
Pacco e spedizione
BOUNDED ACCESSORIES AT FREE:

1. GOOD QUALITY MIG TORCH

Export carton size:515X325X345MM
Machine size: 420(Length)X270(height)X200(width)mm




Machne net weight:9.8kgs

Pakage Size:515(Length) * 325 (Width) * 345 (Height)

Gross weight: 16.5KGS

20ft container loading qty:520pcs

40hq container loading qty:1200pcs
Nostro servizio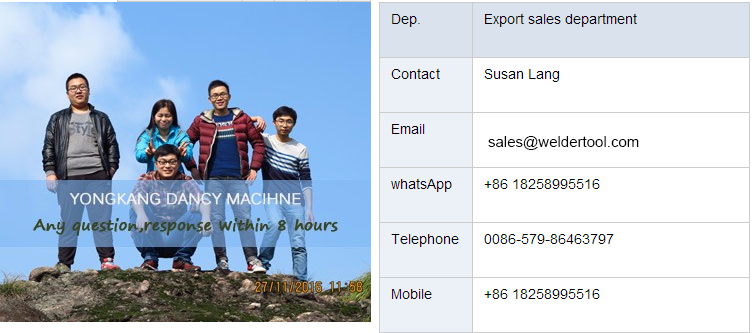 Vi preghiamo di contattarci per ulteriori dettagli sui prodotti e informazioni sulla spedizione.
I venditori di know-how per la saldatura sanno perfettamente e pienamente le tue esigenze, ti aiutano a risparmiare tempo e denaro.
| | |
| --- | --- |
| | Customer send inquired item with more details: model number,import to which country,general quantity,special requirement |
| | Our seller send quotation... confirm price.. lead time...warranty...afer-sale service...artwork...payment... |
| | Our sales send proforma invoice or online order by alibaba |
| | Customer make payment and send us bank copy... our finance confirm payment |
| | Sample or trial order arrangment... artwork start... |
| | Initial stage of production-- ARTWORK for confirmation,anything about order will be shared with customer.Estimated delivery time,contact customer about shipinng carrier contacts. |
| | End stage of production--products photos will be sent to you for approval. Customer can arrange the third party Inspection |
| | All products (each of piece) are checked and test by our skilled wokers,and checked once again by our sellers and quality control department. |
| | Clients make payment for balance and Ship goods , send all documents for customs clearance. |
| | Send note to customer when the goods arrive.Feedback about our quality and service,looking forward to long terms cooperation. |
La nostra fabbrica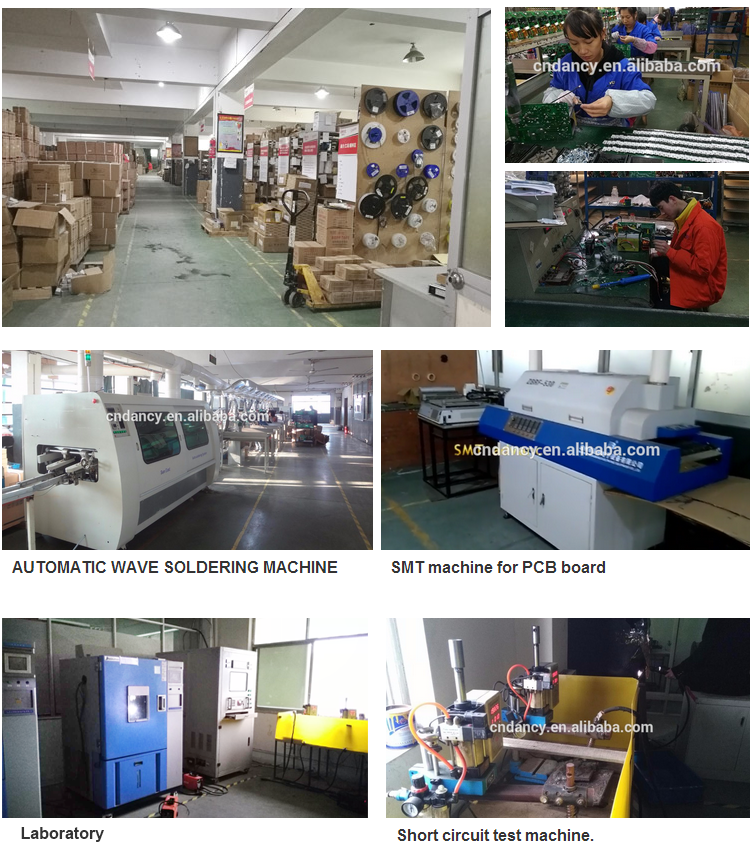 Il nostro certificato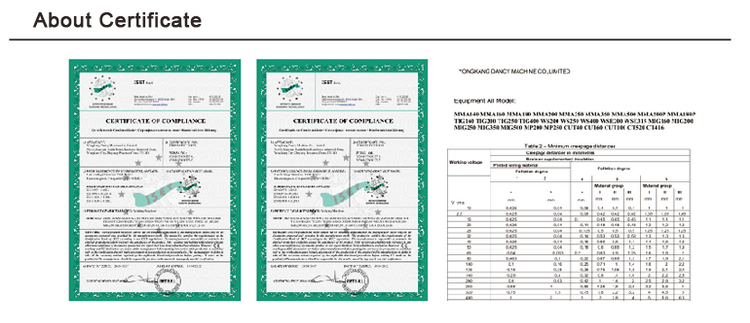 Elenco prodotti : Macchina di saldatura > Saldatore MIG